Claire here with a quite update for you on a Monday evening. I'm closing in on the last hours of my 3-day weekend, and wanted to share a couple projects with you!
Let's start with a non-WLK2 project, but one that has been in the works for a while - I finished my
Levenwick
cardigan! I could have had it done much sooner, but of course it took me a while to do the front bands, and then to block it, and then to find the right buttons, and then to sew them on - you know the drill! However, it is now complete, just in time for the warm spring weather.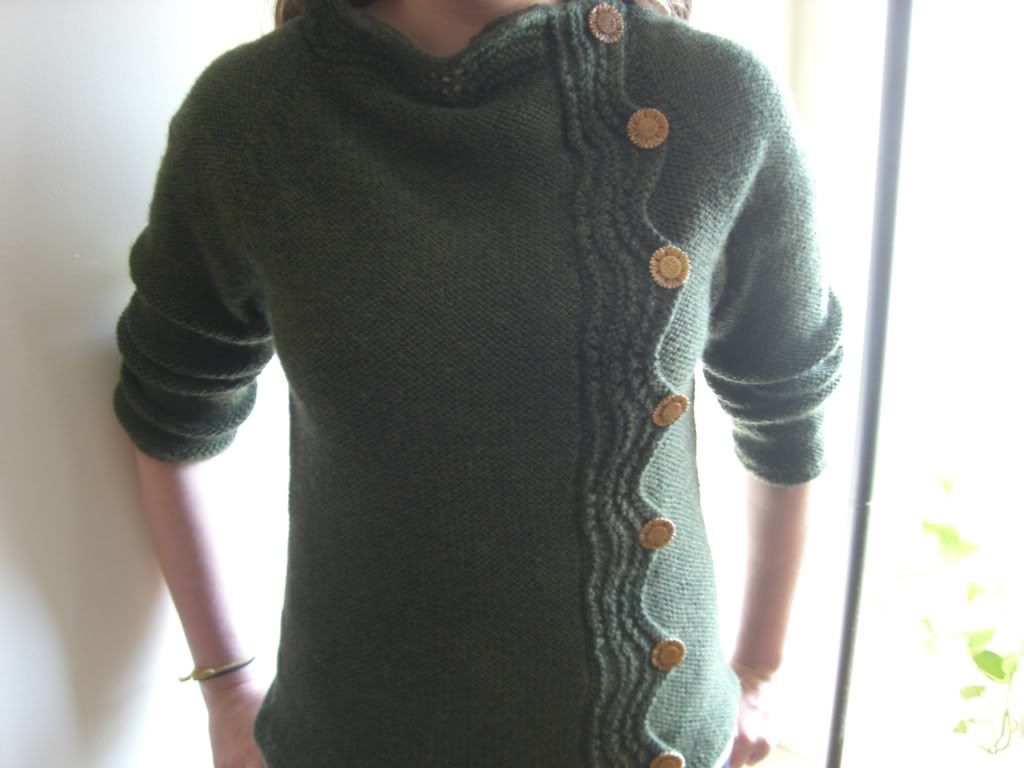 Sorry for the photo quality - I have to find time (and a willing photographer) for a pretty session outside, before it gets too warm to wear!
I like it, but I'm not 100% in love with it yet. Hopefully that will come with wear. I think I over blocked it a but, so it's drapier than I'd intended. I do like it with just the top 4 buttons done, or with all of them done, but I think I will wear it the most with just the top button left undone. The buttons are cute little carved sunflowers, in a sepia colored resin.
Continuing with the vaguely disappointed theme, I have an update on my
Scroll Lace Scarf
.
I've made it much farther since this picture was taken - I was nearly done this afternoon, in fact! I decided to do the body in garter stitch to get rid of the curling factor. I knew it was going to take more yarn than the stockinette version, but I neglected to realize HOW much extra yarn I would need.
I ran out.
I'm still committed to the garter stitch body, but I'm going to have to figure out how to re-work the short rows, and I think I'll have to omit the picot edging as well. Until I feel like ripping out the scarf will be thinking about its mistakes in the knitting basket, and I'm going to get back to work on my
Rocky Coast
cardigan. Must finish wooly projects so I can start some spring things!