Sorry for the long radio silence! We WLKALers have been feverishly knitting our Rhinebeck sweaters, but it looks like
only I've finished so far
! That means it's on to the next project: Snapdragon Tam. While this pattern looks very complicated, it's super fast and easy to knit. Most of the cables are simple 1x2 or 2x2, so they're extremely easy to do without a cable needle.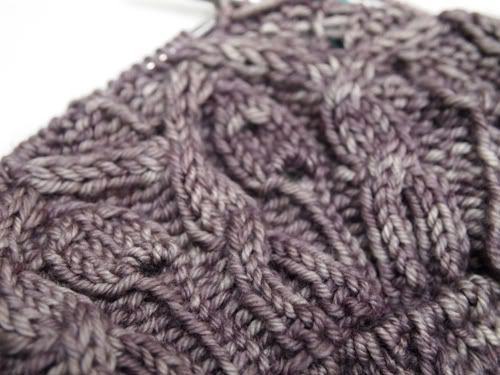 I'm using the recommended yarn (Madelinetosh Tosh DK) in the new French Grey colorway. As you can see, it takes on a purple tone in certain light, but other times it's a perfectly neutral gray. I love the depth and complexity of the hue. I'm pleasantly surprised that the tonal variegation isn't disrupting the patterning. For the record, I'm knitting the medium size with size 5 (ribbing/band) and size 7 needles.
While the pattern has been flying off my needles, I have come across two little snags. The first is literal: my Hiya-Hiya interchangeable needle cable is super pointy on one side and won't stop unscrewing on the other. This has led to some major snaggage on both side. I've already replaced all 4 of my Hiya-Hiya cables due to malfunction, so I simply refuse to invest more money in this set. Thankfully, my wonderful mother is getting me
a different needle set
for Christmas, so I only have a few months to wait. I'll try not to complain too much.
My second problem was, as always, user error. As an advanced knitter, I often assume that I know what I'm doing without reading a pattern row completely. My knitting hubris got the best of me when I worked the first row of slip 1, knit 2, pass slipped stitch over as sk2p. I fixed this easily and then vowed to read the pattern more carefully, which I did do...until rounds 25-29. I only worked one round of this repeat, which I didn't realize until 10+ rounds later. That means that my second row of buds is shorter than my other ones. While I could have added a lifeline and ripped back, I decided that I was fine with my tiny buds. We'll call it a design element to differentiate my tam from the others.