Claire here, bidding adieu to the year 2011. It's been an excellent year for me, and hopefully for my fellow bloggers and all of you as well! I've had a wonderful time knitting through WLK2 and being able to discuss problems and design elements with Kendra, Jess and Lindsey has made it even better. We like knitting along together so much that we've got more projects planned for the future. And of course we're eagerly awaiting the arrival of
Whimsical Little Knits 3
as well!
Back to the knitting at hand, I have a finished project, and one that is so close I can feel it. While I was home in Michigan just before Christmas I finished the knitting on my Peaks Island Hood. It was especially fun because my mom was also working on the hood!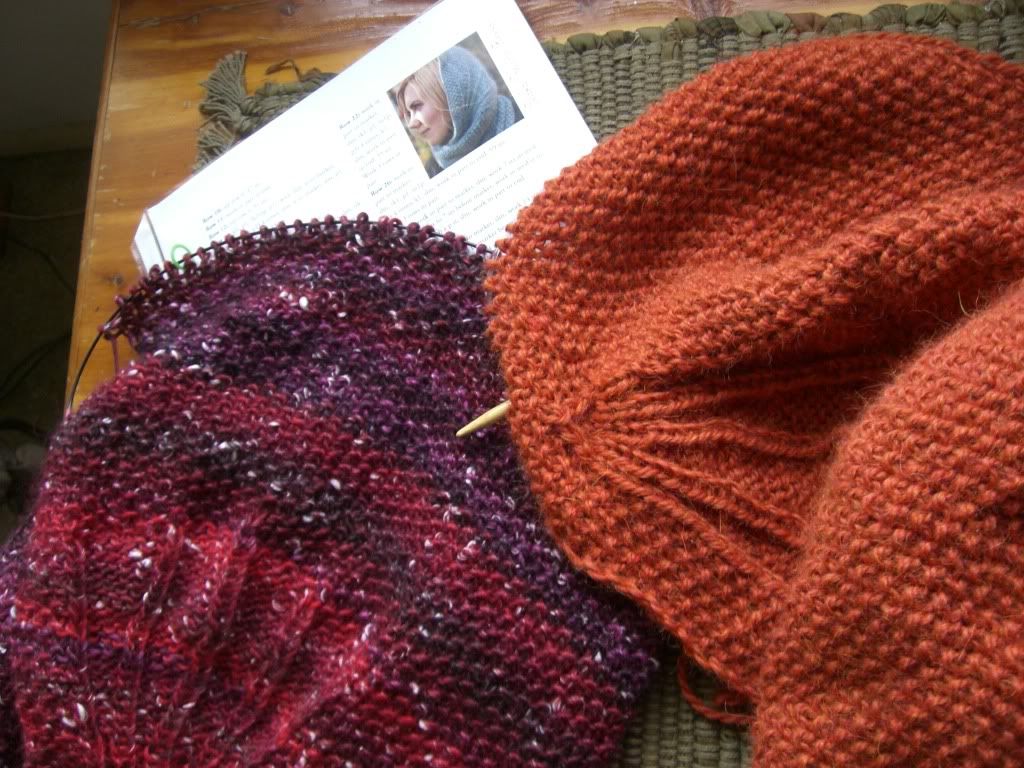 Mine is the orange Mirasol Miski on the right, mom's is the red-purple yarn she can't remember the name of on the left.
She was having some trouble with the shell shaping on the hood, so I was able to give her some pointers, and it helped having mine there to look at for reference. Even though I finished mine while I was home, I haven't gotten around to weaving the ends in, blocking and sewing the buttons on yet, so my mom technically beat me!! Hopefully that will be my task tomorrow - finish my 100th project on Ravelry in the first day of 2012. I got some lovely maplewood buttons for Christmas that will look great, so keep your eye out for an update post soon!


The other project I can finally share with you is the
Emily
capelet. This was one that looked cute in the book, but wasn't something I would normally wear. I called up my sister Emily and asked if she would be interested in it. We talked over the yarn requirements and her color requests, and decided on a light worsted-weight wool, or wool blend, in a chocolate brown. And then the quest began. It seemed like every yarn I looked at wasn't a rich enough brown, or it was too semi-solid, or the color was right and the weight was wrong. Finally I hit paydirt (with the help of Jess!) at Rhinebeck in October. I got two skeins of
Shadyside Farm Colored by Hand
in Chocolate - perfection! I skipped ahead to this project since I wanted to have it to give on Christmas, so I'll have to find a replacement project when the rest of the girls knit it.
This was a fun pattern to knit, with the short row shaping and the fairly easy, but very pretty, lace edging. My only concern while knitting was the yarn - it was so saturated with dye that it came off on my hands, leaving a lovely brown-purple stripe over my index finger where I tension my yarn. I was worried that it would all wash out during blocking and the finished product would be much lighter, but I think it turned out okay. Have to give Emily a warning not to wear it in the rain or with a white shirt though!
I love the drapiness of the yarn too - going through the project gallery on Rav, some capelets looked very short, but I'm pleased with the length of mine. I think it will provide some warmth as well as being super cute.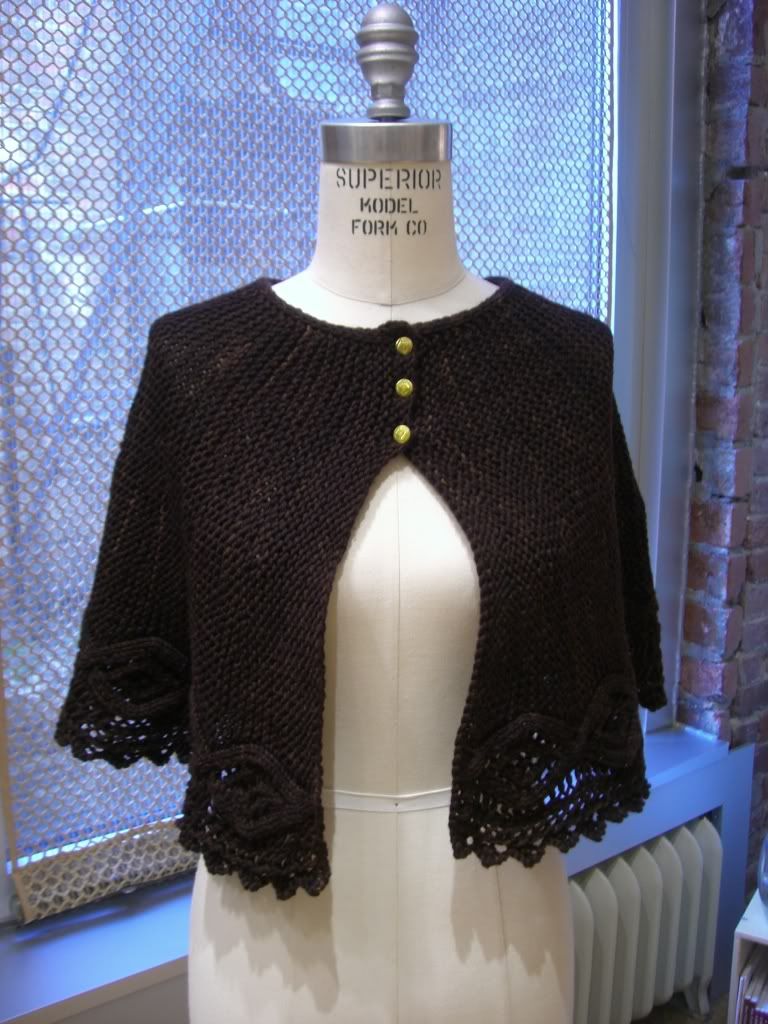 It hangs a little funny on the mannequin, but I swear it's even in front!
I had to tighten the button holes a little to fit my buttons, and I also added a stabilizing button to the back. A knitter needs a button stash as well as a yarn stash - these were bought years ago at an antique mall, and I never thought I'd have a use for just 3 buttons. Just goes to prove the need for variety in your stash!
I hope you all have a Happy New Year and continued knitting success! I'm off to go put on some sparkly nail polish (it's a party, after all!) and decide which project to bring with me into 2012!