Hello all! Claire here, joining the "We're still here!" posting line up. And yes, we have been busy in our silence. I started my
Levenwick
shortly after the new year and am making good headway on that. Then Jess and I both got the beautiful book Coastal Knits and were ooh-ing and aaah-ing over that for quite a while. Finally she pressured me enough (like it was hard!) to get the yarn to start the
Rocky Coast
cardigan. I ordered myself some nice light grey Shepherd's Wool from Stonehedge Fibers. I admit, it was a front-runner because it's from a mill in Michigan - yay mitten! I think this is the first time I've had 2 sweaters going at once, so it's been a challenge to keep pace on both of them. I also finished a sock, started (trying) to learn Continental knitting, and made an exuberantly pom-pomed hat. It keeps me cheery in this snow-less NYC winter.
And FINALLY I have put buttons on my Peaks Island Hood. Finishing a piece can be the trickiest part, and honestly I wasn't sure if I was going to put buttons on this, since I think I blocked it a little too much and the scarf parts were quite long. But I fiddled with the placement some, broke out the embroidery floss and needle, and in 10 minutes I had a truly finished hood!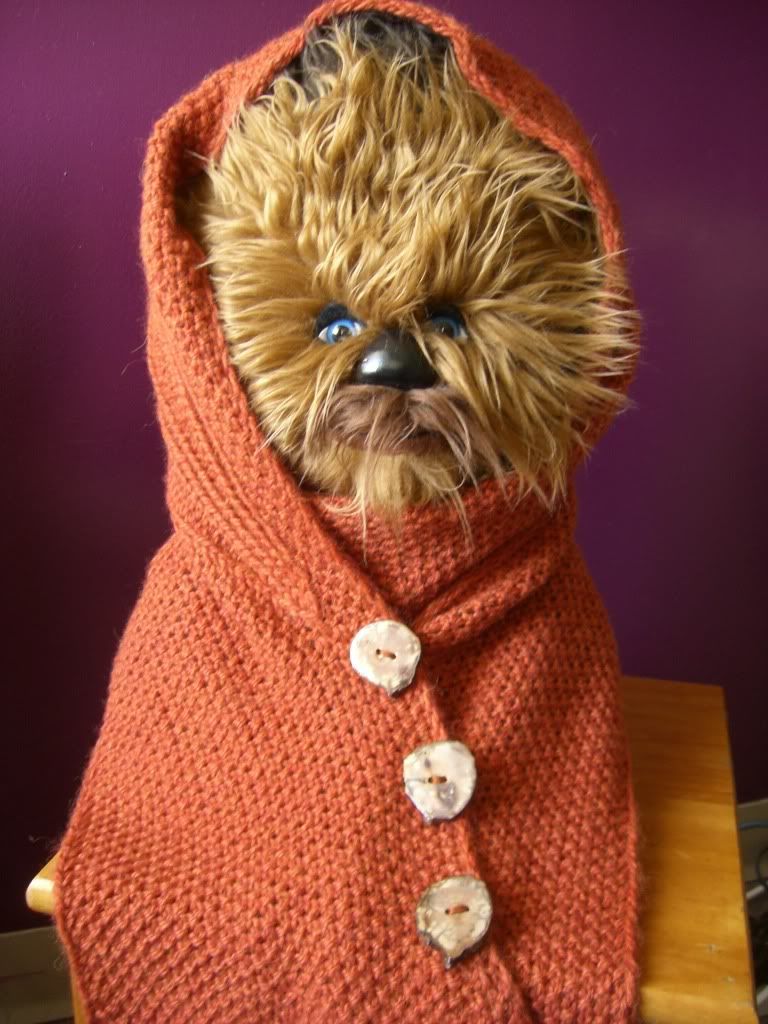 Chewie here was kind enough to model for me. Doesn't he look cosy? I think I mentioned in an earlier post that the buttons are some I got for Christmas, from a company called Buttons by Nature. Made of spalted maple, they're the perfect size and give the hood a nice little rustic flair.
And now on to further projects in the Whimsical Little Knitalong! We've made our way to
Nathaniel
, the cutest little squirrel pillow you ever did see! So far he is a very fast knit, and has some interesting construction details as well. You start with a garter strip, slipping stitches on the side to be picked up later for the squirrely body. It's a little awkward at first, but with a chunky yarn it goes very quickly! Clever decreases shape the feet and tail parts. I think my gauge is a little small, but I think Lawrence (of Brooklyn) will be just the right size to cuddle with on the couch and watch Shaun the Sheep with me.