Nobody knits to create stress. Unfortunately, things outside of our control can quickly take knitting from relaxing to infuriating.
First, I had the worst time ever choosing yarn for
Levenwick
. I'm usually pretty decisive about these things, so not being able to select a yarn, let alone a color, was mind-boggling. After purchasing a few sweater quantities (which will all be put to good use), I finally settled on the recommended yarn,
Brooklyn Tweed Shelter
in Homemade Jam.
This brings me to my second piece of stress. As much as I love the tweedy shades and wooly hand of this yarn, I just can't get over the sheer quantity of vegetable matter (or VM, as we say in the biz)! For those not in the know, VM is the general term for hay, wood, and other goodies that may make it into your yarn from the fleece. While I can tolerate a little bit of VM (sheep aren't the cleanest animals, after all), I cannot justify spending a pretty penny on yarn that is absolutely ravaged by it. Here's how much I pulled out of less than half a skein: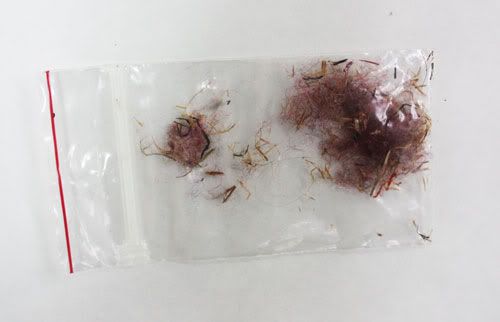 When I contacted Brooklyn Tweed about this, they were sincerely apologetic and offered to replace my yarn in the same dye lot. Hooray! Except when I received the yarn, it had just as much VM as my old skeins. Sigh. So now I'm knitting a sweater in yarn that is making me very angry, but I can't let myself admit defeat. I worked too hard to select this yarn, dammit.
And finally, here's my last disappointment. I ordered 3 skeins of yarn for my Peaks Island Hood, but only 2 were available. That means I'll have to wait until at least Monday, maybe Tuesday, to get the yarn and start the project. I guess that gives me more time to begrudgingly trudge through Levenwick, right?
Now that I've gotten that out of my system, I can focus on enjoying my knitting (no matter how much VM I must pluck from it). Maybe I'll cast on a beautiful shawl for myself to make up for my recent string of annoyances. Sometimes you just have to treat yourself.