What's a girl to do when an epic, historic snowstorm ruins Halloween weekend? Why, knit the Snapdragon Flip-Tops, of course!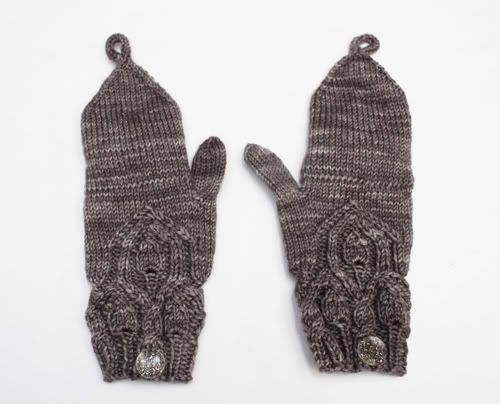 To match my
Snapdragon Tam
, I whipped these up in Madelinetosh Tosh DK in French Grey. And to make myself feel better about the gloom and doom, I added some very special buttons.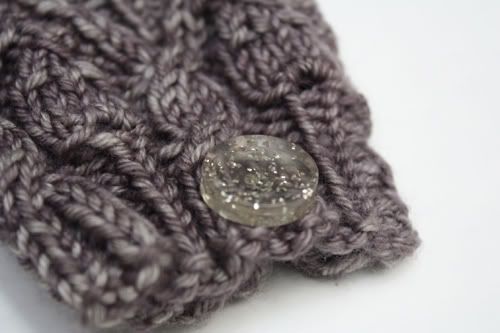 These sparkling beauties were already in my (ever-growing) button stash, and I'm thrilled to use them on this project. A note about button stability: it can be difficult making buttons secure on knitted fabric. This goes double for shank buttons. I always sew a plain shirt button on the wrong side of my project. That way, the real button is resting flat against something hard and stable (the shirt button) as opposed to something pliable (the knitted fabric). Super easy, right?
And now that I've gotten the pretty pictures out of the way, I want to offer some advice on the construction of these mitts. Both Claire and I find the wrists to be a bit loose. That's because the pattern starts with ribbing, but the stitch count quickly increases when you create the buds. To combat this, I'd recommend dropping down a needle size for the wrists. I used the recommended size 6 for the entire project, and that's my only regret. While the wrists aren't
too loose to wear
, I'd be happier if the winter chill couldn't get in quite so easily.
My final piece of advice deals with picking up stitches for the flip-top. Ysolda recommends using a double-pointed needle to pull your stitches through the knitted fabric. I knit really tightly, so I decided to use a crochet hook instead. This made the process super fast and easy! All you have to do is use a crochet hook to catch your yarn on the wrong side.
Then pull the stitch through to the right side. Here's what it looks like when all of the stitches are picked up: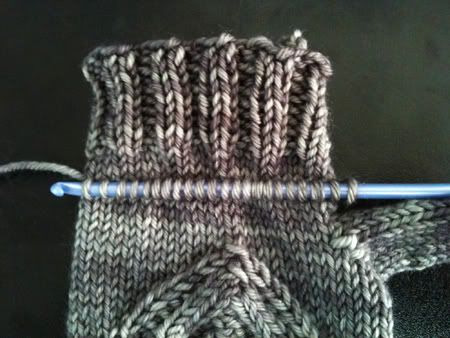 So simple! Then all you have to do is slide the stitches onto your knitting needle, and you're ready to knit the flip-top. Apologies for the low quality phone photos, but I think they illustrate my point.
Now that the gloves are done, I'm going to wait on Claire (and hopefully Kendra!) to finish theirs up, too. Come on, ladies!