One of the best (and worst) things a knitter can hear is, "Can you make that for me?" Often, people don't understand the time and the energy involved in knitting something (let alone the time and cost of the beautiful yarn). But when my twin sister requested a pair of Snapdragon mitts, I knew I had to say yes. She hasn't always been appreciative of my knitted gifts; she considers them "cheating" because they're not store-bought. Yet when she spotted my Snapdragons, she sheepishly asked, "Can I commission a pair from you?"
Now, I've accumulated at least 4 sweater quantities of yarn in the last month or so (whoops), so I've been looking to destash. Luckily, I had some beautiful Candlewick Madelinetosh DK leftover from
my Acorns sweater
. I also had some spare owl buttons, so away I went.
I definitely learned a lot from knitting these mitts the first time, so I made some beneficial changes. The most significant change was to knit the first 25 rounds or so on size 5 needles. This tightened up the wrists to prevent gaping.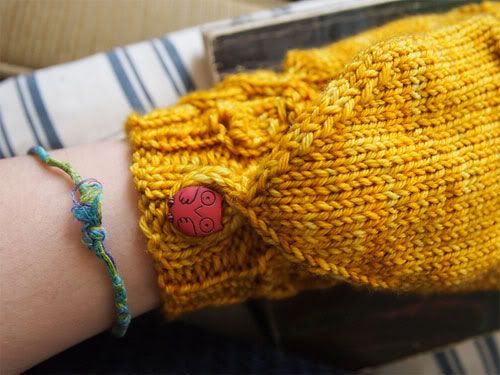 I went down even further -- to a size 3 -- for the i-cord. This was to make sure that my button tabs are super durable. I also shortened them by several stitches to accommodate my smaller buttons. (Bonus: Check out the friendship bracelet Claire made me! We traded bracelets 5 or 6 months ago, and they're still going strong. Hooray!)
Overall, I think these mitts are a rousing success! I had a great time working the pattern again (and using up some of my stash!), so now I can move on to the Peaks Island Hood.