Claire here, adding another finished shawl to the tally! This would have been done a bit sooner but for my indecision about the edging. Originally I finished it with the mustard, bind off and all, but then I had some second thoughts. Since it was pretty late by the time all those stitches were bound off I put it down for the night and revisited it the next evening. Yup, I wasn't as in love with it as I thought. Time to rip! I continued merrily on my way with the remaining Graphite until about 2/3 of the way through the bind off when I thought "Hm, that yarn end is getting a little short." You guessed it, I ran out of yarn! Luckily, this is where having a bit of stash saves the day. I have another skein of TML in the Terrarium color, which is a darker greeny color, but I thought I could get a section that could match okay, especially for just the bind off. I only ended up being about two yard short, so if you did want to keep the body in garter stitch and use the TML, I would recommend taking out a few body rows and doing the math to fit the scallops in.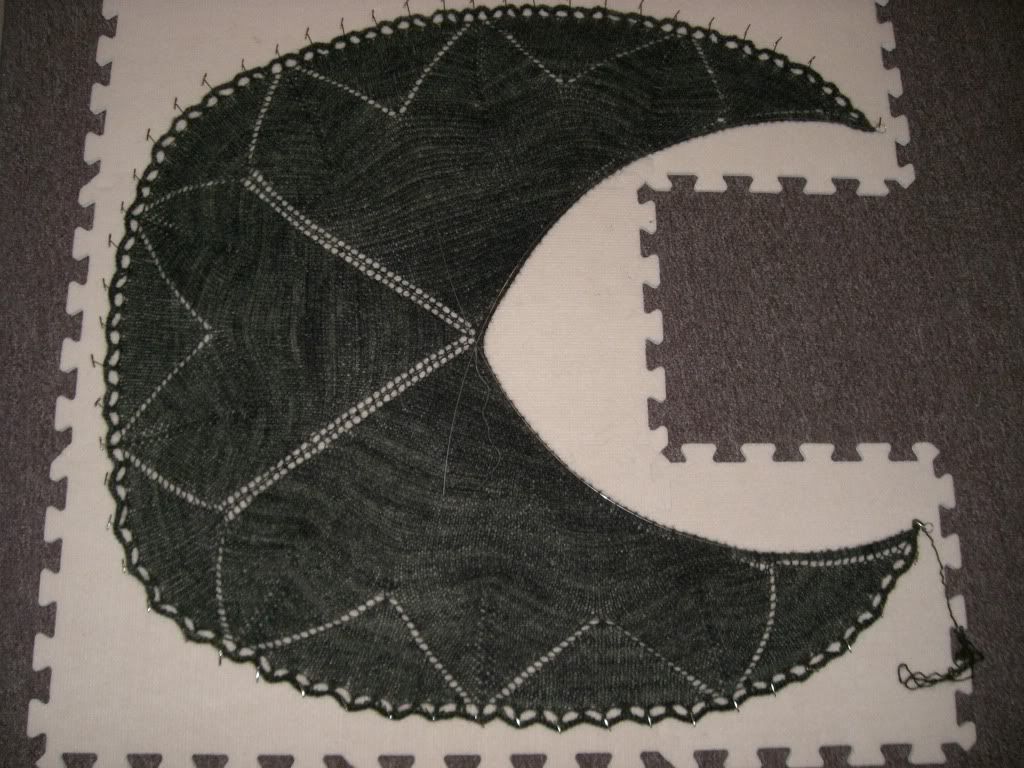 I blocked mine a little more aggressively than Jess, since I like my shawls on the larger size. For all you nerdy crafters out there, the first thing my SO said when he saw it blocking was "Is that a Cylon raider?"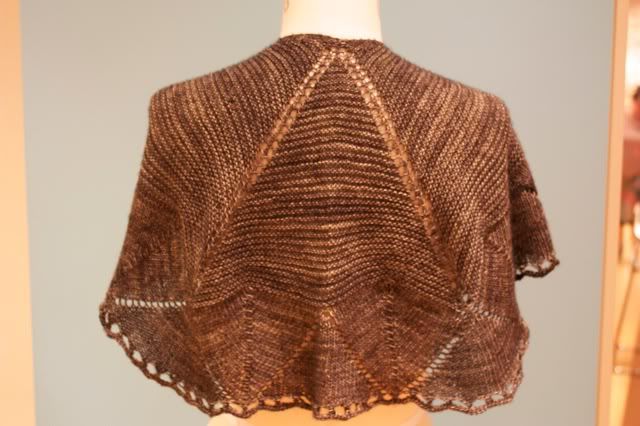 It's so silky and drapey! I can see this becoming quite a wardrobe staple this fall. You can also see how wildly the color varies depending on the light!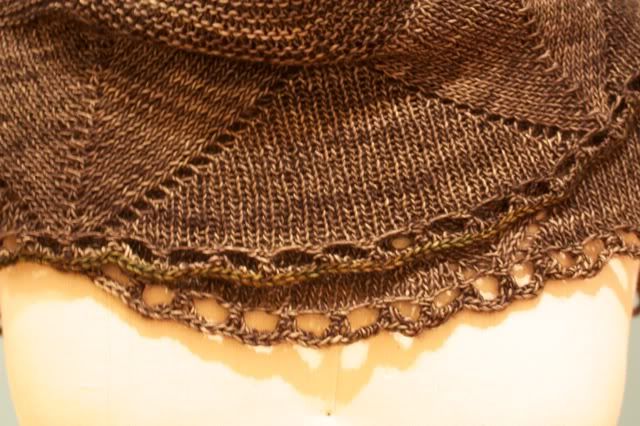 If you look closely, you can tell that the top row of edging in this picture is a different shade than the bottom row. Since Tosh Merino Light is a 100% wool yarn, I avoided having to weave any ends in by doing a felted join, also called a spit splice. I think the latter name is much more descriptive! Basically, you are applying moisture, heat and friction to the yarn ends, just like if you were felting a larger piece. I made sure to overlap my ends by about 1.5 inches to form a secure join.
Overall, I am super pleased with how it turned out, and can't wait to cast on for our next project. I've got plenty of projects to keep me occupied in the meanwhile; I just cast on
Rondeur
last night!