Jess here again, and I have to say that the
Snapdragon Tam
whipped up in a flash! I really wanted my cables to pop, so I decided to do a full wet block. Instead of stretching it over a dinner plate or bowl, I simply laid it flat to dry on a blocking board to prevent sagging. This definitely opened up the cables well. However, it's been so humid here that it took my hat a full 4 days to dry. That's longer than it's ever taken one of my sweaters to dry!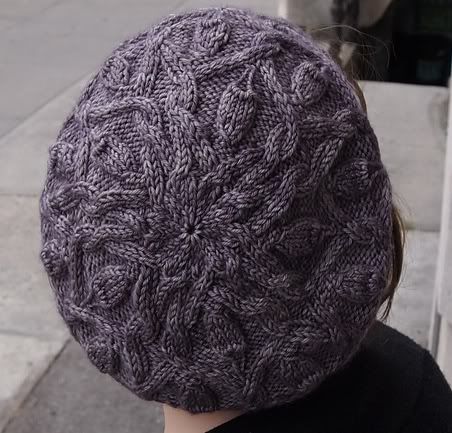 I'm really happy with how the tam turned out, and I think my sizing ended up perfect. A word on yardage: I know that some people using the recommended yarn (Madelinetosh Tosh DK) have run out of yarn or have come awfully close. I finished the medium (minus 4 or 5 rounds) with a little over 50 yards remaining, so I wasn't even close to this problem. I hope that puts some people at ease!
Now I'm at a bit of a crossroads. I don't have a sweater quantity of yarn, and I refuse to buy any before Rhinebeck. I could try to whip up the matching Snapdragon Mitts for Rhinebeck (which sounds wonderful considering how cold it is here). I should knit the band on my Lanesplitter skirt so that I can call it finished (and, you know, wear it to Rhinebeck). But all I've been doing is
knitting hexipuffs
! So far I've finished about 12 of them, and I can't get enough. Each is the perfect little size to complete during your lunch break, while watching television, or while riding the train. For a sweater knitter like me, it's nice to have such fast-finish sections of an overall larger project. I'm also happy to finally be using up my sock leftovers! My goal is to only use stash on this quilt. We'll see how it turns out in about a year.