Well, based on our radio silence around here lately, you would be forgiven for thinking we had been kidnapped by wild dogs, or turned our backs on yarn all together (never!!!). I am here to confess to something far, far worse - knitting adultery. Yes, even while committed to a long-term project, our eyes have wandered over the "Hot Right Now" pages on Ravelry, browsed new issues of Interweave and Vogue, and fondled yarn not appropriate for our next project. But wait, we have excuses! You see, Rhinebeck is coming up and we need new sweaters.
The
New York Sheep and Wool Festival
is held the third weekend in October in Rhinebeck, NY - most fiber types will simply refer to it as "Rhinebeck" with awe in their voice and a glimmer in their eye. Apart from fondling lots and lots of yarn and fiber, there are sheep, llama, goats and alpaca galore, and tasty tasty food. And of course knitters love the excuse to wear their handicrafts proudly - sweater spotting is a fun way to pass the time between demos. Which of course means that you need just the right one; a combination of warmth and style.
This is the conundrum we have all been agonizing over for the past week or so. I had a yarn in mind already, so that gave my search some limits. I'm using some Silky Wool by Elsebeth Lavold, taken from a sweater that was never going to be finished, in a pretty yellow-orange color. I'll match the fall leaves! After searching high and low, I've decided on the
Rivel Cardigan
by Miriam Felton. I think it will be nice over a long sleeve tee, and I can leave it open or closed depending on the weather. And since we're going for two days, I'm also working on the
Lanesplitter
skirt!
But back to our main program. The next project on tap is the
Veyla
mitts. Even in a smaller yarn than Smith the Hedgehog, these seem to be going much faster! I think the lace helps, since you are watching it form, rather than just going round and round. I made the cuffs one after another, in an attempt to cut down on the Second-Mitt Syndrome. If you choose to do this, make sure to take at least a little break, and read the charts carefully, since they are mirror-images of each other!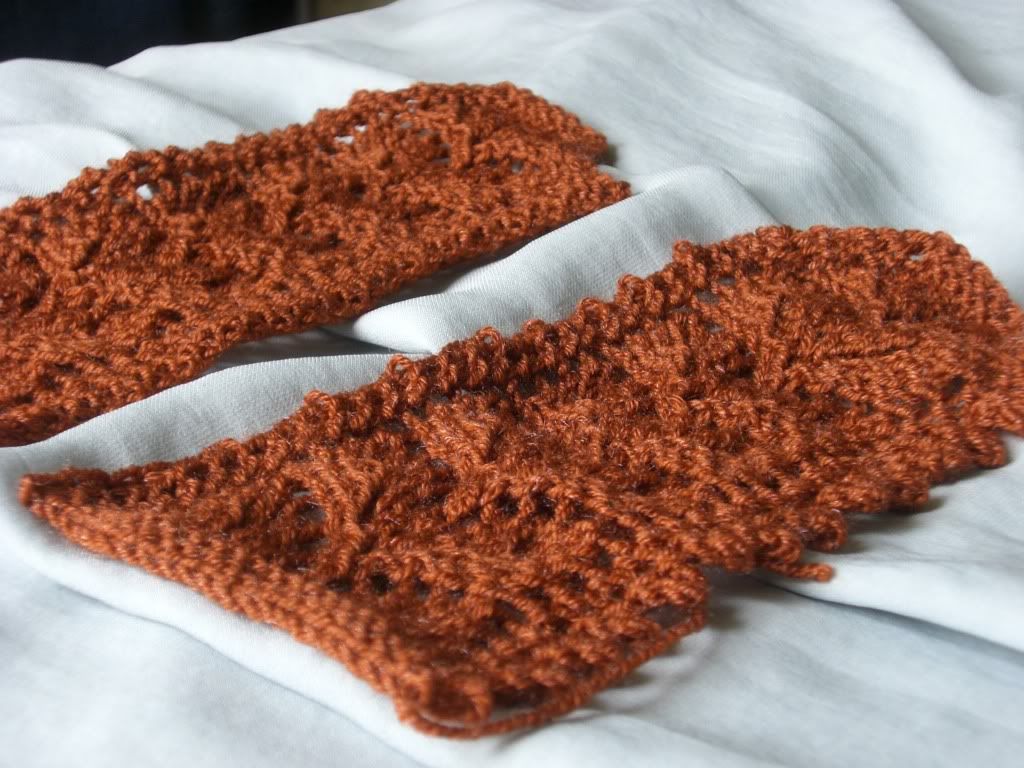 I finished each in an evening, but have yet to pick up stitches for the main body due to the aforementioned sweater dilemma. I think a transition it to my travel project, since both sweater and skirt are too big for the subway. So keep your fingers crossed for a post tagged "finished" sometime soon!