Rhinebeck 2011 has come and gone, and I have to say it was an overwhelming experience. I laughed, I almost cried (more on that later), and I spent way more than I should have.
On the way up to our hotel in Saugerties, we couldn't help stopping at Webs, the largest yarn store in America. What's an hour or two out of the way (and out of the state) when it comes to yarn, right?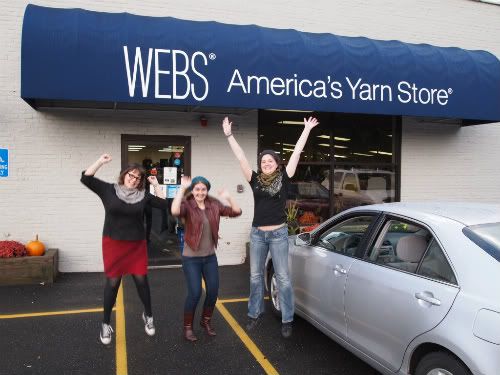 Needless to say, we were all very excited. The plan was for us to buy sweater quantities here to avoid temptation at Rhinebeck. I went in with a very specific idea of what I wanted: worsted weight gray yarn with a nice tweed to it. That should narrow it down, right? So very wrong. Webs has an incredible selection, and with great selection comes great confusion. I kept placing more and more yarn in my basket, and it became a blur of gray tweed fiber. It got to the point where I couldn't differentiate between yarns anymore, and I began to truly panic. I made a rash decision to abandon the tweed and go with a cheap heather, which Kendra and Claire assured me was a solid decision. Of course, after 2.5 hours in Webs, they probably could have convinced me of anything. I purchased my sweater quantity, a bit of sock yarn (for my Beekeeper's Quilt), and a pair of circular needles. My brain was absolute mush (but in a good way).
The next day we were off Rhinebeck! We all had an incredible time playing Rhinebeck Bingo, making new friends, chatting with designers, and eating too much food. I received so many generous comments on my Acorns sweater, including from Ravelry's own Mary-Heather. At the Ravelry meetup, we had the wonderful opportunity to say hello to Ysolda herself! It was so wonderful to thank her in person for permitting our knit-along blog.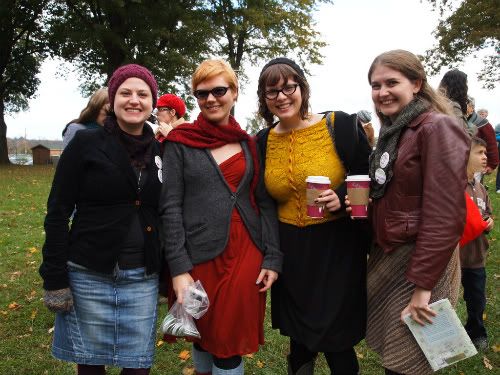 Of course, it would have been better if she had seen us the second day -- we were all wearing our Damsons and Snapdragon Tams!
As for the festival itself, it's difficult to put into words. It's so great to be surrounded by people who are passionate about the same things you are, and Rhinebeck is the epitome of that. I walked a llama, pet lots of animals, ate some ghost pepper sauce (I'm addicted to spice), attended a hard cider tasting, sampled lots of food, ate pickles, drank too little coffee, walked until my feet hurt, and snuggled lots of yarn.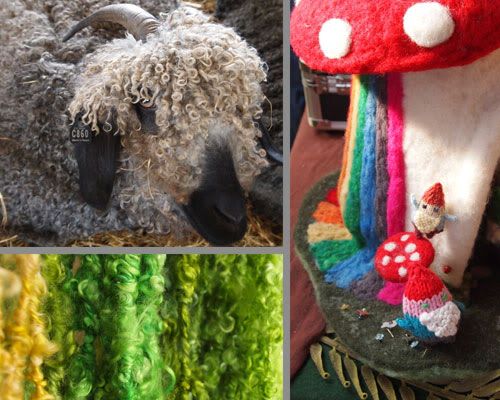 While I did go over my intended budget, I certainly got a lot of bang for my buck! Here's a catalog of my bounty:
1 skein Sanguine Gryphon Little Traveler in Rojas (probably for a shawl)
2 skeins Sanguine Gryphon Mithril in a point mutation, not sure on the intended colorway -- maybe either Little Caesar or the Shepherd at the Fold by Midnight (for a sweater)
1 skein Sanguine Gryphon Mithril in Starry Night over the Rhone (for a shawl)
1 skein Jellyfish Knits Intergalactic in Emerald City (for some sparkly hexipuffs!)
1 skein Jellyfish Knits Ephyna in Iron (more hexipuffs)
2 skeins Sliver Moon DK Superwash in Antique Brass (for Levenwick sweater)
Owl buttons from Jennie the Potter (for Levenwick sweater)
5 skeins Valley Yarns Northampton in Dark Grey (sweater)
1 skein Valley Yarns Huntington in Deep Pine (for even more hexipuff action)
A block of spicy cheese
A packet of spicy pepper jack dip mix
And that, dear friends, is my incredibly brief wrap-up of Rhinebeck. I'm still exhausted and way too obsessed with cuddling the yarn that I bought, but I think I'll recover in a few more days.