Red is a notoriously difficult color. Its light pigments are larger than others, causing it to glow in photography and video. It is difficult to dye to proper shade and often bleeds when washed (oh, the irony). And I can't stop knitting red yarn.
My previously mentioned Rhinebeck skirt was
Lanesplitter
. Claire and I both decided to use Lion Brand Amazing as an economical (and softer) alternative to Noro. While she opted for the neutral browny Cobblestone, I went straight for Roses, a bright tonal variation of reds, burgundies, and pinks. I mostly followed the pattern as written, although I have lazily avoided inserting the elastic so far. I've worn it twice with no wardrobe malfunctions, though, so I'm pretty happy! If I had to do it over again, I would use a provisional cast on. To do this, simple cast on the number of stitches for the
diagonal width
you wish to achieve. Since you're working on the bias, you would work increases on one side and decreases on the other (as for the main body section). When the skirt fits around you, simply graft it to your provisional cast on. Bam, you've got a seamless skirt! Added bonus: your color changes won't be as obvious at the cast on/bind off edges. I definitely see myself making another of these in the near future (perhaps in my other color obsession, green). At any rate, here's my finished skirt (photographed at Webs):
For my next red projects, I decided to use up some stashed Madelinetosh Tosh Merino Light in the gorgeous Scarlet colorway. I needed a small project to knit while standing in lines at Rhinebeck, so I pulled out an Ysolda classic,
Ishbel
. I'm not much of a triangle shawl person, so I knit the small lace and stockinette sections. Overall, I'm pretty happy that the shawl went smoothly (just 9 days start to finish!), but I think it deserves a more aggressive block.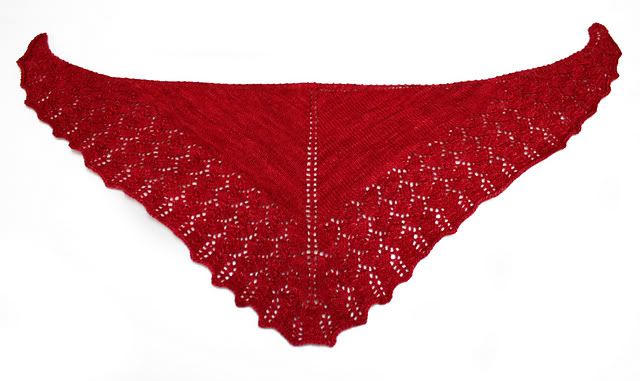 Pro tip:
block lacy shawls like this with the right side
down
. This helps prevent curling in the stockinette and lace. Yes, I learned that after I blocked this. I'll definitely be doing this from now on! In the meantime, let's get a closeup of that gorgeous lace.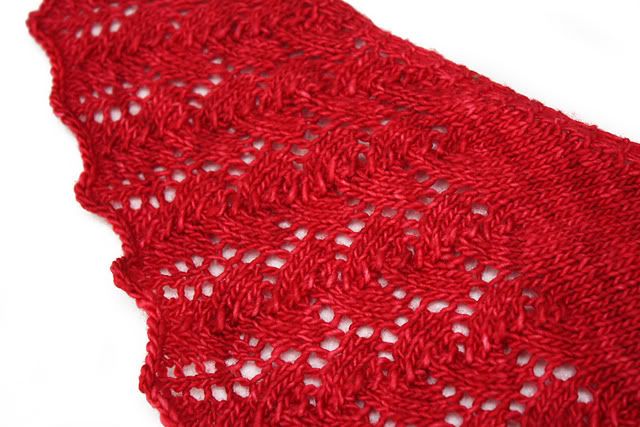 Now that I'm finished with these projects, I'm starting my Snapdragon fliptops. After all, it's starting to get cold here!